As our 25th birthday approaches, BAMO continues to grow (projects in 3 new countries), innovate (hospitality spins on commercial and multi-family projects) and invest (REVIT  & BIM integration).
Keeping us on the leading edge is our illustrious group of design leaders.  Thus, BAMO is pleased to announce the promotion of Lauren McGuier and Addy Williams to Senior Associates. Joining ranks with Alan Deal, Anne Wilkinson, and Billy Quimby, Addy and Lauren will continue to push the boundaries of design and project management from a leadership role. At a firm-wide level they'll take a deeper dive in business development, marketing, technology and operations.
Allow us to introduce you to the newest generation of BAMO leaders: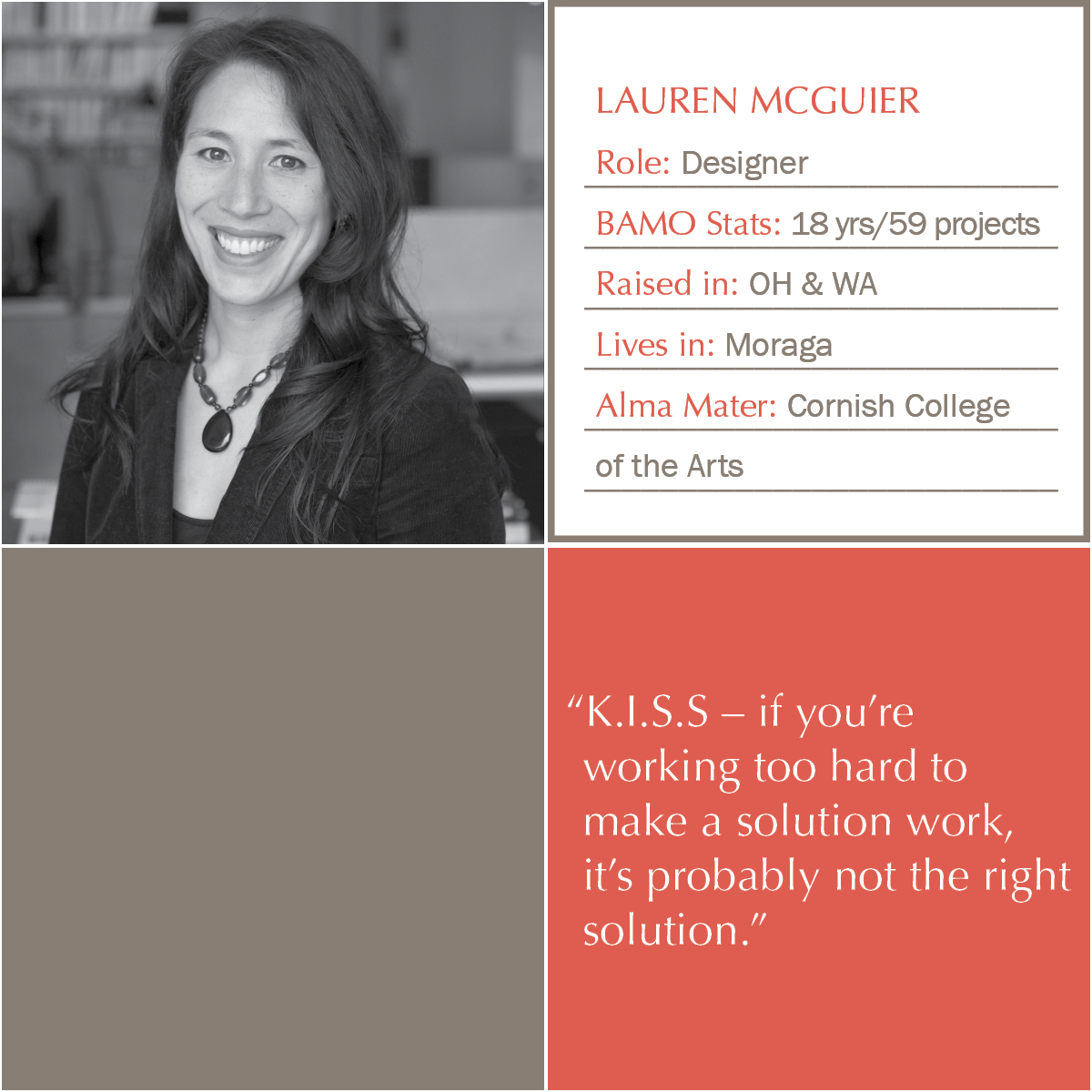 Favorite BAMO memory?
Celebrating one of Pamela's birthdays at Taylor's Refresher at the Ferry Building – everyone wore red wigs to match her signature color!
 Also, my first installation with Steve, Pamela and Rhonda at the Villa Feltrinelli in Italy.  It was nothing like I expected – chaotic, exhausting and more adjusting than I imagined, but yet everything fell right into place.
Most challenging part of your job?
Balancing all aspects of the process – design with documentation, meeting project requirements and continually cultivating innovation and inspiration. All while keeping a sense of calm and humor of course. 
Favorite place(s) you've ever visited on the job?
Kiyomizu-dera Temple in Kyoto, Aoyama district in Tokyo, Lago di Garda, Italy
Product or process you're dying to use on a project?
I'd love to explore 3D printing as a tool to develop custom and small-scale prototypes.
Go to source for inspiration?
I always start by looking at what's local to the project and seeing where that may lead me. I've worked on projects in Japan, the U.A.E., Hong Kong, Italy, Austin TX, and San Francisco. Needless to say the local aesthetic and culture have been a huge influence, each in an entirely different way.
Favorite thing to do in San Francisco?
We have a seemingly endless list of incredible parks to discover – recently I explored Crissy Field and Ft. Funston. 
Fun fact that few know about you?
I'm from a really small town in Ohio.  Once when the circus came, they unloaded some of the animals from the train in our driveway and walked them to town.  My mom remembers hearing lions from the kitchen and seeing elephants in the driveway.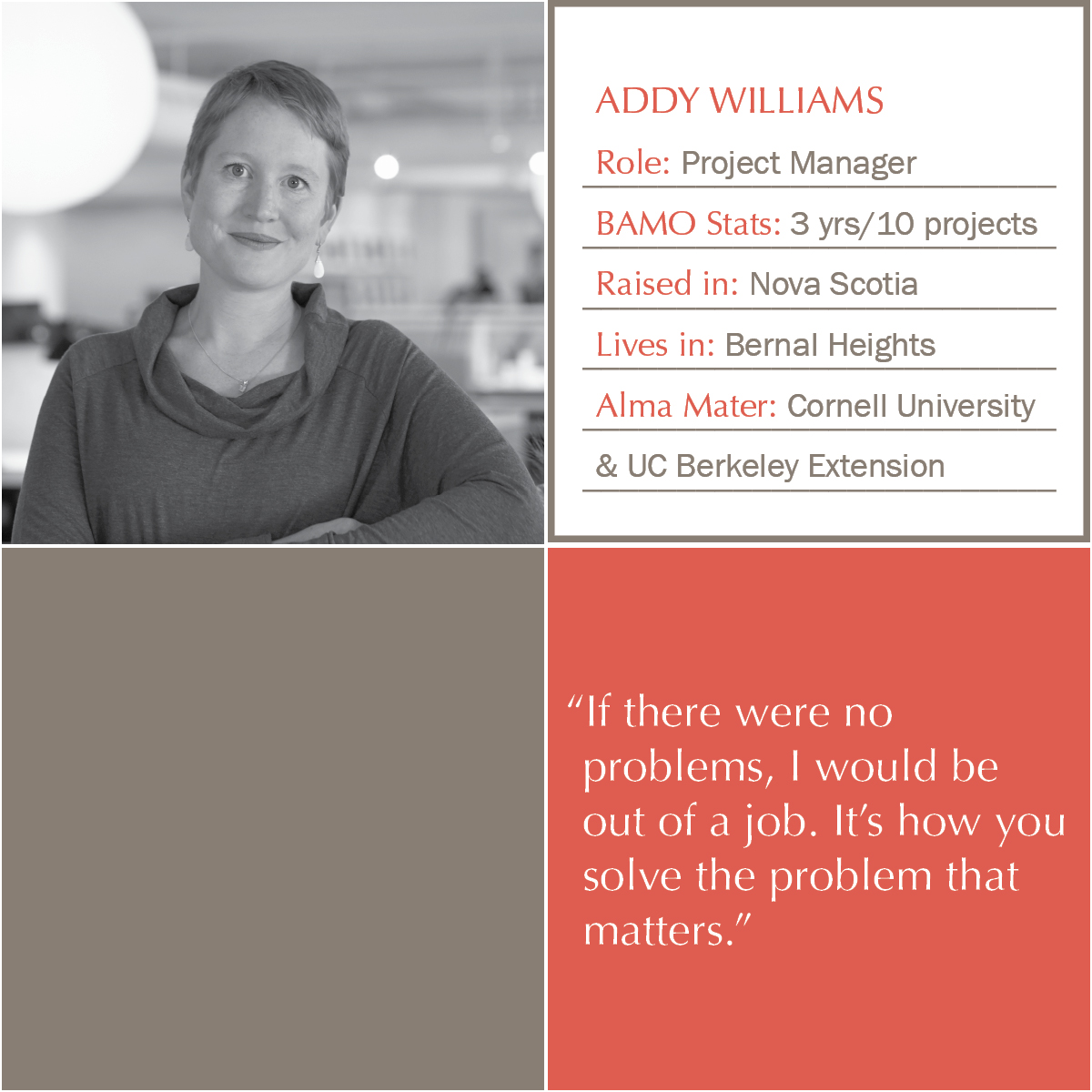 Best part about your job?
While I studied Interior Design, I knew that I was not the person who would be doing the designs. As a PM, I get to be around beautiful materials, finishes, and inspiration, but can still retreat back to my comfort zone of numbers, emails and schedules.
First thing you do when starting a new project?
Set up my project plan in Vision. This allows me to view my staffing needs for the duration of the project, and have a better understanding of the cost implications if certain staff aren't available.
Three things that are always on your desk?
Date finder wheel, calculator, and weekly staffing chart. Numbers, numbers, numbers….
Favorite place(s) you've ever visited on the job?
Due to kids, I haven't travelled for work yet with BAMO. For my previous position, though, my trip to the New Delhi for the Dusit Deverana project was very interesting. It was fascinating to see how the hotel was constructed using primarily hand labor (bricks were carried on baskets on worker's heads, pipe was bent by hand, swimming pools were dug out by hand). The job site was so quiet you could hear the birds chirping.
Advice for the younger BAMO generation?
A great employee is someone who has the confidence to explore, take risks, or simply give their opinion, but has the humility and respect for learning that is required to successfully do one's job. Showing your value by doing a superb job every day will advance your career a lot faster than asking for a promotion.
Dream client or project?
An Ecoresort.  All of the waste in our industry is discouraging to me. I would love to be part of an effort to do things better/different.
Favorite thing to do in your hometown?
Hehehe…with a population of 120, it doesn't quite qualify as a town. When I'm home (which is far less frequent than it should be) I love to relax and re-explore the fields, barns, rivers, and streams of my youth. My childhood is the polar opposite of my life in SF.