In mid-July, IIDA NC hosted Pioneers in Design – From the Office of Charles Pfister. The event, held at the SFJAZZ Center, provided a thought-provoking discussion about the influence and vision of the legendary designer. Panelists included four designers who worked at the Pfister Partnership.  I was honored to participate and was joined by Richard Brayton of Brayton Hughes, David Darling of Aidlin Darling and Jeffry Weisman of Fisher Weisman. Moderating the panel was my dear friend Stanley Abercrombie, former Editor-in-Chief of Interior Design Magazine.
It was fun to share anecdotes and remember what made Charlie distinctly Charlie.  Charlie promoted a level of luxury without being fussy, was fearless about looking at things in a different way, and encouraged his peers to be persistent in pursuit of high ideals.  "Charlie encouraged us to think big and never compromise; just make it yourself," Jeffry recalled.  Richard remembered, "There was never just one solution."  "You always flew first class with Charlie" recalled David.  Charlie enjoyed opulence without waste, used extraordinary materials and had an endless imagination.  His incredible attention to detail and focus drove his work; his energy was eclectic and fun.
As for me, I'll never forget one of his lasting design mantras: "Give it soul."
ABOUT CHARLIE:
Charlie embraced the mantra "do what you love" better than anyone I've ever met.  He often said, "I work 24 hours a day."  This was prompted by a lack of delineation between work and you might say… play.   He was driven by passion and he loved success.  For Charlie, taking a client to dinner wasn't work, it was part of enjoying life and what you do to be successful.  It was his formula.
Charlie had a selfless way of working with his teams.  Reviewing projects was about sharing.  Instead of criticizing or saying no, he would ask questions.  The question I loved was, "Are you sure you want to do it that way?"  It meant that unless you could say YES, you should take a deeper look at your design and maybe make it better.   Charlie was not only an entrepreneur, he was an impresario, organizing his team and the design production to make sure it played well with the critics, aka clients and design community.
Charlie never discounted youth.  Fledgling designers have good ideas and he always allowed those ideas to be expressed.  He did not hold the design back.  He might send you off to a job site for months or to a meeting to do damage control on a project.  It was all part of growing.  The experience might be trying, but it was good.   The office was about sharing ideas, encouraging the team, relishing the design process, and embracing life.  There was, and still is, an excitement and comradery in exploring a solution.
Charlie valued equally the big picture and details.  A project always starts with the bones, the volume.  Rooms need to relate well to each other and the individual spaces must function.  Within the space, elements are chosen for their own merit.  It wasn't a matter if it's expensive or cheap, old or new.  It's about making the composition within the space sing; which usually involved a degree of eclecticism, clear colors, and nice lines, of course.
His ultimate question was always, "Is it pretty?"  It is a simple place to start and end with success.
HOW I CAME TO KNOW CHARLIE:
Upon graduation from Berkeley, I immediately moved to New York and joined SOM, where my colleagues fondly referred to me as "the hippie from California."  My first project was working on Seatrain Lines' long black shipyard buildings, complete with large white Helvetica lane numbers.  With a year under my belt, I decided to try my hand at interiors, joining James Stewart Polshek's office.  I stayed a year and a half but I missed California and returned to San Francisco.
Charlie Pfister hired me at SOM.  Most of my experience had been in corporate interiors and SOM was THE firm in San Francisco at the time.  Great years followed with varied projects in Hawaii, New York, and Oregon. The interiors group was "a buzz" with multi-talented designers in graphics, furniture and textile design; it was an eye opener. It was also where I caught the travel bug.
During a slowdown at SOM, I was laid off.  I returned to New York for another stint with Jim Polshek.  I crossed the country twice more – to San Francisco to work with Kaplan McLaughlin Diaz Architects and back to New York to work for SOM – before I received a fateful call.
Charlie was in New York and wanted to meet up.  We had champagne at the Mayfair Regent, a hotel owned by legendary hotelier and future client, Bob Burns.  At the Mayfair, Charlie popped the question.  He was opening his own firm and asked me to join him in San Francisco right away.
In October 1981, I was there and smiling… what a cozy little space in the Alcoa building.  The next decade was incredible – lots of amazing projects in far off locales including Brussels, Singapore, The Hague, Colorado, and California.  An extremely pleasing part of the job was that it was second nature to dream of designing all aspects of the projects.   We worked with the best consultants; we could call on an international group of artisans for fabric, carpet, glass, and furniture.  Fortuny, Salir, Venini, V'soske, and Cedric Hartman were just natural.  The office was energized by an abundance of ideas and no lack of ways to accomplish the design.
It continued until Charlie's passing and the closing of Pfister.  At that point, David Moulton, Gerry Jue, Michael Booth and I decided to launch our own firm, which now goes by the name BAMO.  We were taught to have high standards, to get the most bang for the buck, and to persevere – qualities that we continue to practice. The last twenty-three years have continued to bring me and the entire office incredible projects located all over the globe.  Several have answered my inextinguishable love for Italy, Four Seasons in Milan and the Villa Feltrinelli. Others opened my years to new favorites like Hong Kong, where I worked on several homes on the Peak.  Bora Bora was never on my "expect to go" list, but it's beautiful.  I also recently designed a superyacht in Italy.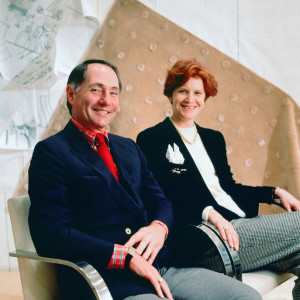 I can't think of travelling for work without thinking of Charlie.  After enjoying the first-class meal, which often included caviar and champagne, he would excuse himself to the lavatory.  He returned, not in the exquisitely tailored suit in which he boarded the plane, but in pink, silk pajamas, ready for a good night's sleep.  Of course, by the time we disembarked, he was well rested, impeccably put back together (suit without a wrinkle in sight), and ready to tackle the next design challenge.
Thank you, Charlie, for sharing your incredible talent and infectious personality with me.  I miss you my friend!
Filmographer Steve Burns put together a short film about Charles Pfister.  Interviews with Charlie's friends and colleagues, include our very own Gerry Jue and Michael Booth.  Watch the video below: